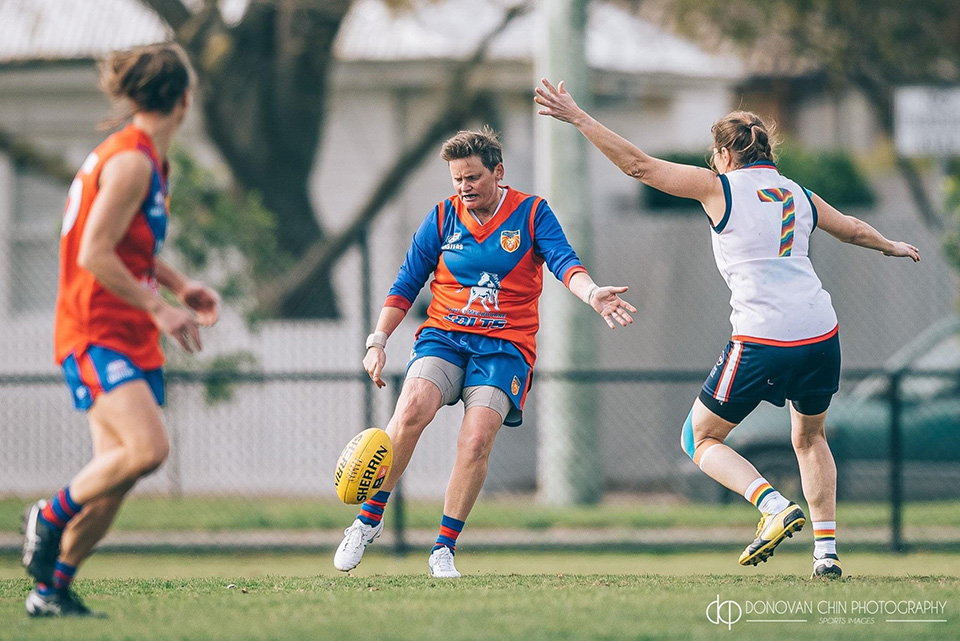 The AFL Masters Vic Metro Board and the Women's Competition are so pleased to be celebrating Belinda Bowey's 400th game.  This will be a home game for the Port Melbourne Colts on Saturday 9 July, 2pm, all welcome to come along and share the celebrations on the day.
Playing in the original eight-team VFLW league in 1992, Belinda Bowey has always found her place at the heart of Victorian women's footy.
"I love now that so many people know about women's football, when l first started playing, yes 30 years ago, no one knew about it, we had 8 teams.  To have such amazing female role models like Daisy Pearce, Steph Chiocci & Jasmin Garner being household names now, is just amazing and to know I've either played against them or with them, is also pretty amazing."
Initially Belinda Bowey joined the original 2018 Over 35's Women's Competition as a way to help out friends, seeing herself as there to make up the numbers.  But she soon found herself drawn to the new community, including many women playing footy for the first time.
"When l first joined Melbourne Lions, l wasn't able to attend training, as it fell on the same night as senior training.  l was able to change the nights, so l could train 1 senior and 1 with the masters and l ended up assisting the current coach with drills.  I loved it and the girls loved it.  No surprise l was TOLD l would be coaching the next season.   I was struggling a bit personally with motivation to keep playing in the Open age competition and thinking that 2018 would be my last year.    After the first game of Masters, l was hooked and knew that l could keep playing in this over 35's competition."
With new opportunities for older women to play football, Belinda was again in the midst of the action with representative sides, playing and captaining in 2018 with Vic Metro and playing and coaching with Vic Country in 2019 at the National Masters Carnival.  Although only allowing men to play from 1982, the Masters' movement has shown that footy can be fun for players at any age.  Now featuring fixtures for women to play, the National Carnival has opened doors for those who had previously missed out.
A natural leader on the footy field, Belinda is encouraging and supportive of new players.  She is the first to meet new players in the carpark at their first training session, and to encourage them to commit to the challenges of the home and away competition.  She has been an enthusiastic coach and recruiter for the new QuickKick program with 6 structured sessions for beginners.  She offers lots of support too for those keen to take that next step to playing in the national carnival games.
"Over 35's is such a great group of women, it's all about women getting out there and playing, it's about doing something for yourselves and not always running after the family.  I sometimes think the hardest part is actually turning up to training, when there are 100 other things these women could be doing, but they are putting themselves first, even if it is for just 90mins each week for training.  I am proud of all the women who get out there and play, and l also find myself encouraging opposition players, as again, l am so proud of them for getting out there each fortnight and playing."
Known for her footy smarts, execution and love of the game, Bowey seems to have endless time and space to work her magic.  She is best known for her time with the St. Kilda Sharks, playing in three premierships, going back-to-back as a player in 1998-'99 before winning as a player-coach at the club in 2004.  Bowey was selected in St. Kilda's 25-year team, and played State footy for Victoria.   Indeed, as a record holder in the Women's state competition, Bowey's milestone games at senior level have been fiercely celebrated.  Her story from being turned away at U14's to being offered a spot in the first ever women's competition has been featured in the footy and mainstream media throughout her career.  Some of these stories can be found here:
The Over 35's women's competition is now where Belinda Bowey can continue to play some beautiful football, and to share the love of the game with familiar and new team mates.  Still playing senior footy when her masters footy commitment allows, Bowey continues to add to the highlights packages and footy lore.
"This year, we commemorated the passing of our football Queen, Ann Rulton, .  At that next game, I gave a little emotional speech to the team, we all cried, we all wore black arm bands.  Our runner then said to me, "Blouse, you need to kick the first goal for Ann"… l thought, there is no way, l hardly kick goals…  Well guess who popped up with the first goal of the game !!!  I was pretty stoked and l know Ann would be chuffed too."
Celebrating the 400 games with Belinda Bowey is an absolutely privilege for the women's competition.  It is a tribute to a pioneer, and a shared moment for players who are setting out some history of their own.   The milestone is an acknowledgment of the enormous contribution on and off the field for our women's footy community, and a toast to the new programs that will invite women to the footy fields and clubs in 2022.
"Whenever l have someone thinking about playing football, l always invite them to training, letting them know they can train and don't have to play.  Just come down and have a try.  I am loving the new concept of the QuickKick and how that has taken off.  It's hard when first starting out and it's all about building the team, making training fun and enjoyable, and then helping the players learn the game, and the rules and watch them improve week by week.   I can see great things for the competition in coming years.  More and more women will get involved, and l love the thought of this."
We congratulate Belinda on this 400 Game Milestone and look forward to future endeavours,