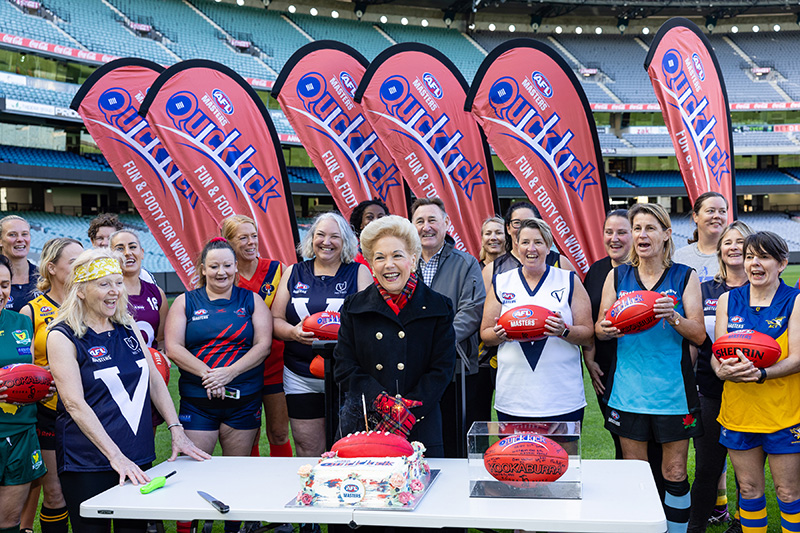 In a further boost to the growth of women's footy, more than 2100 women aged 35 and over have signed up to play Australian Rules Football for the first-time ever in just the past month.
Following a successful social media campaign targeted at older women who want to learn how to play footy, AFL Masters QuickKick was officially launched earlier today at the Melbourne Cricket Ground.
Speaking at the launch on the eve of her 75th birthday, Susan Alberti AC was delighted to be a part of another exciting initiative in footy for women.
"AFL Masters QuickKick is perfect for filing the gap for those of us who were never afforded the same opportunities as the younger generation of today," said Alberti.
"Growing up we were told that football was only for the men and boys. Not anymore," quipped the former Vice-President of the Western Bulldogs and current AFL Masters' Patron for Women's Football.
"From the exhibition match between the Western Bulldogs and Melbourne in 2013, to an 18 club AFLW next season and now AFL Masters QuickKick, it certainly has been an exciting decade for women in footy."
AFL Masters' National Development Officer Cath Quinn said that QuickKick is the first stage of a five-level national program – from grassroots to international – aimed at encouraging middle-aged/older women (35 and over) to safely participate in Australian Football.
"Held over 6 fortnightly sessions in every capital city and various regional centres throughout Australia, QuickKick is a fun, safe, relaxed gathering of like-minded women who always wanted to give footy a go but never got the chance when they were younger," said Quinn.
"Our curriculum has been inspired by Auskick and will teach fundamental footy skills such as kicking, handpassing, ground balls and marking and will culminate in the first game of footy for most."
"No skills or experience needed. Just a can do attitude, a smile and a sense of fun."
AFL Masters' General Manager Dr Adrian Raftery said that the initial interest amongst those women who never played before was eye-opening yet pleasing.
"Of the 2000 plus initial registrants, a staggering 81.4% have never played AFL before with just 7.3% having played more than 2 seasons," said Dr Raftery.
"I was at our first ever QuickKick clinic last week in Gisborne and the most obvious observation was the giggling and laughter by the women. It was truly infectious."
"Girls just want to have fun as Cyndi Lauper once sang."
Blown away with the large response since a social media campaign commenced on April 28, AFL Masters' President Steve Eurell echoed this sentiment, saying the success to date is proof that there was a gap in the market and encouraged potential sponsors to jump on board.
"The AFL Masters National Board has been blown away with the success of QuickKick and just goes to show that this 35+ women demographic is the most influential age group in the country today."
"In combination with the AFL and the AFLW, we now have various entry-levels for women to play whether it is junior, elite or Masters football," said Eurell.
According to the AFL's Women's Football Vision 2021-30, there were 983 community women's teams and 380,000 women and girls playing Australian Football back in 2016. Today, there are more than 2500 community women's teams and 600,000 women and girls participating in the game.
Ben Kavenagh, the Head of AFL Victoria, said that the growth of the code amongst women throughout the nation has skyrocketed in recent years and could be attributed in large part to the efforts of amazing women such as Alberti.
"Since the inception of AFLW we've seen women and girls participation numbers surge and there's clearly an appetite for programs like AFL Masters QuickKick, giving women the opportunity to participate in football, which is fantastic to see," said Kavenagh.
"There are more opportunities now for women and girls to play football because of pioneers like Susan who have made such a significant contribution to the game."
The AFL Masters QuickKick program has been established thanks to seed funding via a Sport Australia grant announced earlier this year to assist AFL Masters increase the participation rate of women playing the code.
To register to play QuickKick, go to www.QuickKick.com.au
Key points of AFL Masters QuickKick:
What: AFL Masters QuickKick is an introductory program which is designed to teach the basics in footy – from handballing and kicking, to marking and bouncing.
When: 6 x fortnightly sessions held between May to September. It will conclude in the 6th week with the first ever match of footy for these women in a "Footy for Fun" environment
Where: AFL Masters QuickKick will be progressively rolled out throughout Australia. From capital cities to regional areas in all eight Australian states and territories. In Canberra (ACT), Batemans Bay, Wollongong, Western Sydney, South Sydney, Wagga Wagga, Newcastle (NSW), Darwin (NT), Gold Coast, Brisbane, Townsville (QLD), Hobart (TAS), Adelaide (SA), Kyneton, Ballarat, Geelong, Gisborne, Moonee Valley, Banyule, Frankston, Springvale, Werribee (VIC), Perth (WA).
Who: Women aged 35 and over by 31 December 2022 (that is, born before 31 December 1987). After a social media campaign started on 28 April, over 2100 participants are currently registered from all eight Australian states and territories.
How: Register at www.QuickKick.com.au
Seed funding provided by a Sport Participation Grant from Sport Australia.
Random stats of AFL Masters QuickKick registered participants:
Oldest player to register – 73yo from NSW
2% registered are under the age of 40
5% registered are under the age of 50
4% of those registered have never played AFL before
Only 7.3% have played more than 2 seasons of AFL in their whole life!
35% registered in non-traditional AFL States of NSW & Qld
3% born outside Australia
4% have a parent born in another country
2% are Indigenous
7% have a disability
18 volunteers signed up – we would love more
1 former professional tennis player (multiple Grand Slam winner who has ranked in the top 30 in the world for singles & top 5 in the world for doubles)
332 women were registered to play AFL Masters before the launch of QuickKick
For more information, please contact:
Dr Adrian Raftery
AFL Masters National General Manager
0418 210 599
[email protected]
Cath Quinn
AFL Masters National Development Officer
0438 800 690
[email protected]