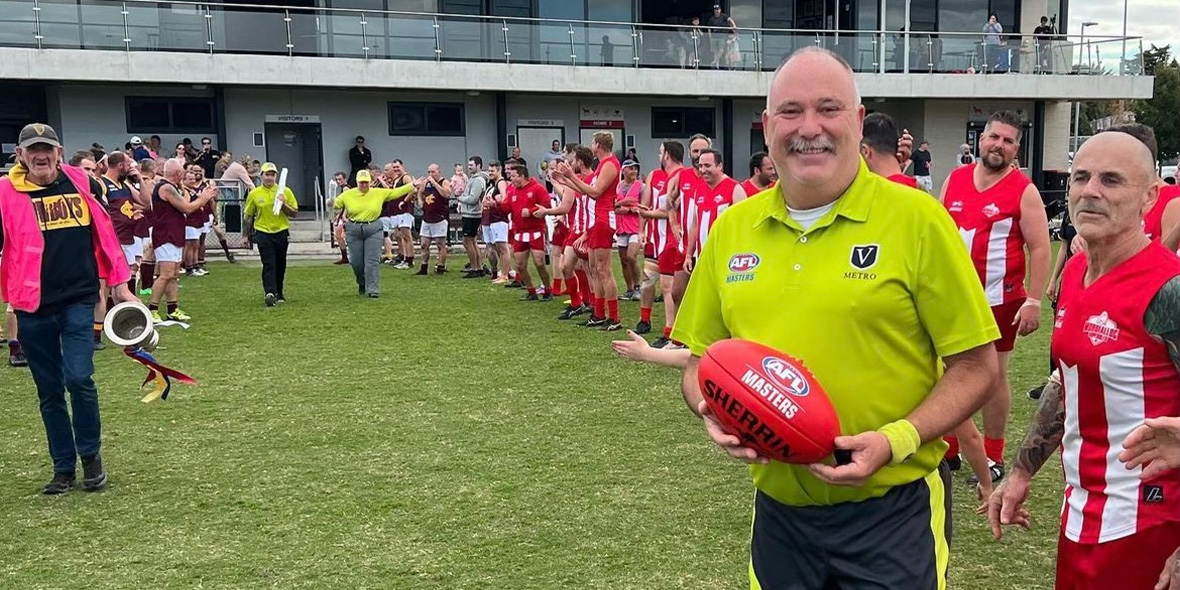 During Round 2 at the Mordialloc v Carrum 35s match, Al Manning achieved an incredible milestone, reaching 300 umpired matches for AFL Masters Vic Metro Football League.
Al started playing juniors football in 1976. Al then went on to play U/19's and Reserves with Sandringham Victorian Football Association and Seniors with Hampton in the Southern Football Netball League Umpires Association (SFNL).
At the age of 29, Al umpired his first match in 1997 for SFNL, and still umpires for the association today. Al started umpiring due to a shortage of umpires, as back then, clubs were required to supply umpires for their Reserves teams. He like umpiring as it kept him fit and involved.
Al started umpiring in 2003 for AFL Masters Vic Metro Football League (AFLVM) and took on the Umpire Director role in 2007. Al was also elected for a position on the AFLVM Board the same year, serving an incredible 15 years with the League. Al received Life Member status with AFLVM in 2019.
Al's daughter Tayla was influenced by him umpiring career, coming along to watch his games. When she was old enough Tayla became an umpire herself and is now a VFL and AFLW Goal Umpire. Keep an eye out for Tayla, who sometimes fills in for AFLVM.
Al's love of sport doesn't just extend to football. Al has played cricket for 35 years and have coached for about 15 years. The past 3 years Al has been Assistant Coach at Kingston Hawthorn Cricket Club. When asked what his first sporting love was, he said 'Always both. Football winter, Cricket summer".
Congratulation Al, you should be incredibly proud of your achievements. Thank you for your support and ongoing contribution to AFL Masters football.