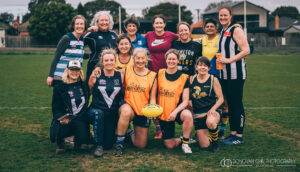 AFL Masters Vic Metro's Over 35's Women's Non-Contact program was introduced in 2022. The Over 35's Women's Non-Contact football program is a version of the game that is accessible to more women over the age of 35. In 2023, relaxed and social games will be organised with the Over 35's Women's Competition home and away matches, and structured with the AFL Masters QuickKick clinics. The rules are easy to pick up, with smaller sides, smaller grounds and modified rules including zones and nominated attackers rotating each quarter.  Everyone gets a touch, more opportunities to take marks and kick more goals.
The League identified the need for a clear pathway into the traditional game, providing more opportunity for non-players to learn game skills, as well as a pathway out for those not able to continue playing in the contact version of the game. In 2022, the Over 35's Women's Non-Contact football held matches in each of the 10 home and away rounds as well as curtain raisers for the Women's finals. Vic Metro club Eastern Warriors have been able to field a team every week, joined by new players from the AFL Masters QuickKick clinics and the Over 35's clubs. The structure was developed for the players, by the players.
During the home and away season, the home club hosts the Non-Contact game, with players invited from the community to register to play either through the AFL Masters QuickKick clinics or the Vic Metro Clubs. The innovative women's Prep to Play warm up was used, as well as a short skills introduction. Sue Emery, AFL Masters QuickKick Co-ordinator, and Fiona Butler currently co-ordinate the venues, organise players into teams and umpire the matches. In 2023 there are opportunities for others to get involved in administration, playing, leadership, volunteering, coaching and umpiring.
Contact the AFL Masters Vic Metro Women's Football community directly via our facebook page: https://www.facebook.com/WomensAFLMastersVicMetro or email: Jennifer Pitson, General Manager, AFL Masters Vic Metro at [email protected].