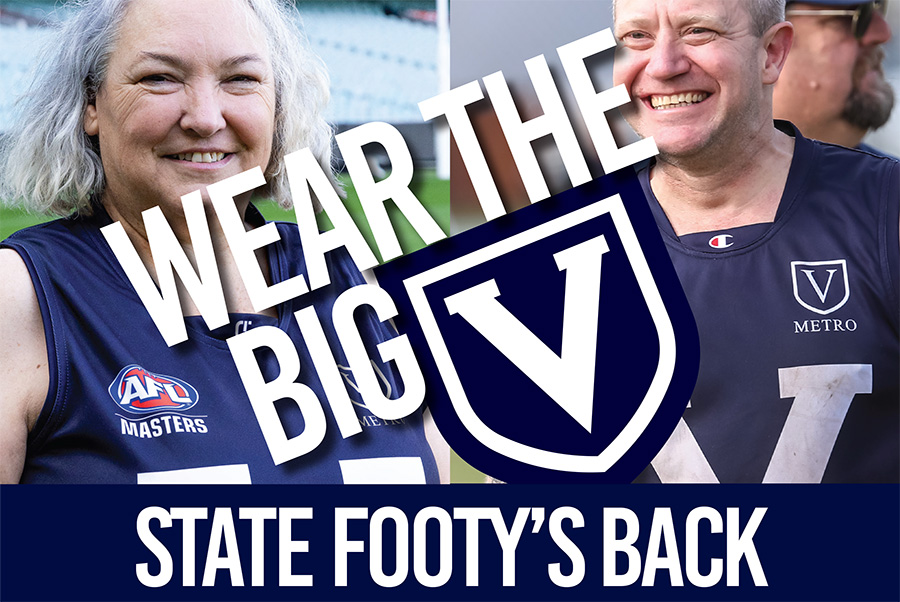 Do you want to represent your state wearing the Big V!? Registrations are now open for the 2023 AFL Masters National Carnival!
We are looking for players (men and women) to represent AFL Masters Vic Metro at this year's AFL Masters National Carnival being held on the Sunshine Coast from Sunday 1 October to Saturday 7 October, 2023.
We need players in all age groups including: Women's 35s and 40s, plus the inaugural Women's non-contact team;
and Men's players 35s, 40s, 45s, 50s, 55s, 60s & 65s.
Registration is easy, however you can only register once so please ensure all details are completed correctly. You will be required to pay a deposit of $200 at the time of registration, or you can pay $490 in full. If paying the deposit only, the remaining $290 will need to be paid no later than 31 July.
To register click here: https://www.playhq.com/afl/register/740dec 
Your registration fee of $490 gets you:
* National Carnival Registration Fee
* One (1) complimentary National Carnival Vic Metro Polo shirt
* Team BBQ & Lawn Bowls Event (Wednesday 4 October)
* Presentation Night Ticket (Saturday 7 October)
Additional activities, playing gear, travel and accommodation at player's cost
To purchase playing gear, go to https://teamwear.s-trend.com.au/en/store/afl-masters – This is also where you order your complimentary National Carnival Vic Metro Polo Shirt (enter code: Sunshine2023 on check out).
Even though playing footy for your state could be a career highlight, there are a number of fun activities on offer throughout the week. Make sure you keep an eye out for details on the AFL Masters National Carnival webpage here: https://aflmasters.com.au/aflm-national-carnival-2/
For all other enquiries please contact Dom ([email protected]) or Jen ([email protected]).