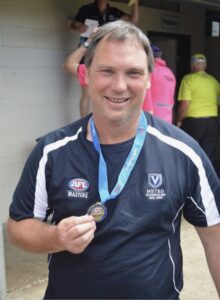 Today, Werribee Masters Football Club and Western Saints, competing in Division 3 35s and 35s Reserves, will pay tribute to John (JC) Crennan.

John passed away earlier this year and will be remembered for his contribution to Werribee Masters Football Club, AFL Masters Vic Metro and his numerous volunteer positions.

John held the position of Secretary at Werribee Masters FC from 2015 until 2022 when he agreed to act as co-President alongside Kerry Saunders for the AFLVM 2023 Season.

John won the Werribee Masters FC Best Club Person Award in 2015, 2016 and 2022. Along with this, he was instrumental in the development of the Werribee Woman's football team.

John recorded 101 AFL Masters matches, however would often play 2 or 3 games on a Sunday, so this figure is not a true reflection of his ongoing commitment to the Club and League.

John was also a regular at the annual AFL Masters National Carnival's representing Vic Metro on numerous occasions. We thank you John Crennan for your commitment to the game.

Remembering John Crennan.