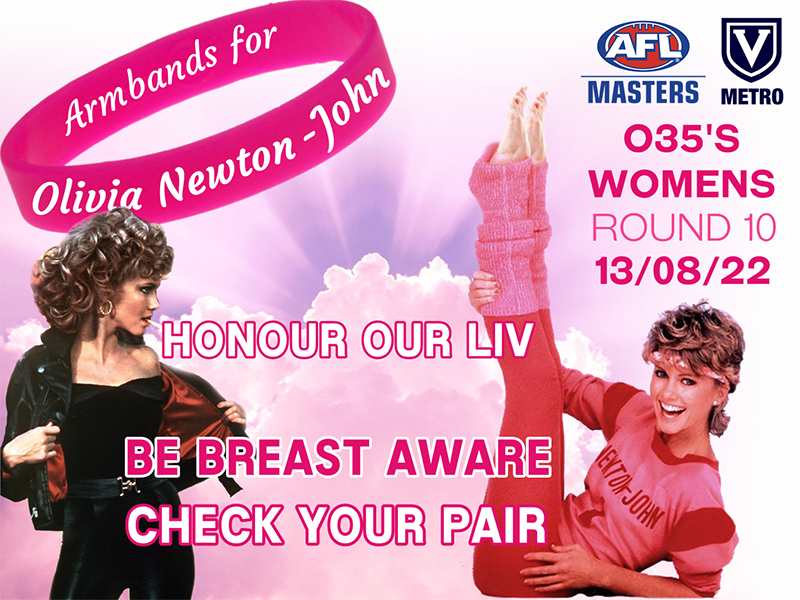 Vale Olivia Newton-John
Call to arms – We ask all players and officials to wear a pink armband in honour of our Liv in Round 10, this Sat 13/08. The armband serves as a reminder to our community to check your breasts and get everyone you know with breasts to do a self exam, even men. Detection rates went down during covid lockdown as fewer people were able to access healthcare. Olivia Newton-John was a fierce advocate for breast cancer research, treatment and early detection following her own diagnosis. She credits her own breast self-exam as crucial in her diagnosis of breast cancer.
Breast cancer has affected 3 members from Northside Lions and VU Spurs are currently are supporting their player Barb in her tough battle who also underwent surgery on the day Olivia passed. It's something no doubt other teams have faced and we have all been affected by in some way or know someone who has been treated at the Olivia Newton-John Cancer Centre.
Hosts at Crispe Park, Northside Lions, are supplying pink tape for all matches; Williamstown V Box Hill Nth & Northside V VU Spurs. There will be a group photo of all 4 teams between the two games to show our solidarity. Please come inside the rooms, eat our gourmet food by the fire and check out the Silent Auction. Up for grabs are some of the great hats in that fabulous bedazzled style that the VU Spurs sported at our Festival of Footy. Generously made by fellow Spurs team mate Breeze with all proceeds going directly to Barb who is self-employed and too unwell to work.
Early detection saves lives. Be Breast Aware and Check Your Pair!